Current Release
Ver 5.0, Sep 16, 2010
All software is certified to contain No Adware, No Spyware, and No Viruses.
Download the Self-extracting automatic installation program. The software will be automatically installed to your computer.
This software is compatible with Windows version 95, 98, ME, NT, 2000, XP, Vista, and Windows 7..
All SB-Software products are free of disabled features or expirations. You may try out the full functionality of the program for an unlimited time period.
Please Purchase / Register your software today!
"Registering" is the term we use for how you "buy" the software. Please register your software today. The price is cheap, your registration is good for all future versions, it helps me to continue to develop the software, and you get other SB-Software programs, such as QuadSucker and Sortpics included with your registration for free!!

Paying online with your credit card is the most popular form of registering, but you may also register by using Pay-Pal, or by sending a check in the mail.
Would you like to know more about QuadSucker/News, and how it can accelerate your downloading experience?
Want to know more? Check out the following:
Compatibility
QuadSucker products are compatible with ALL recent versions of Windows, including 95, 98, ME, NT, 2000, XP, and Vista !
What are binary newsgroups?

(Presumably you already know this or you wouldn't be here!) Binary newsgroups contain binary data, such as images, multimedia files, archives, cd/dvd images, etc, that have been encoded into newsgroup articles. Traditional newsreaders are not well suited for downloading from the alt.binaries newsgroups -- you need a binary newsreader (or binary newsgroup downloader) like QuadNews to efficiently download binary content.
Recent New Features
Here's a run-down of some of the new features introduced in versions 3.3 through 5.0:
Compiled in BDS2009 to ensure Windows Vista/7 compatibility and allow new interface features (5.0)
Copy / Cut / Paste options added to the message writer
Switch to courier font in message writer for wordwrapping benefits
Thread / Throughput statistics
Progress Bar fixed to be meaningful for multi-part downloads
Post Message command in header window
Added right-click menus to available and selected lists (pick & choose mode)
Added store/recall history to config page for multiple news servers
Memory requirements reduced by 20%
Multi-select in newsgroup list
Jpeg auto-commenter
Enhancements to built-in image viewer
Support for SSL usenet access
CPU load reduced subtantially (ver 4.7)
Better handling of Windows Vista file system virtualization (ver 4.8)
No beta versions currently available.
Features:
What makes QuadSucker/News special?
QuadSucker/News (or "QuadNews" as it is sometimes referred to) is designed to make downloading binary attachments from newsgroups easy and fast. QuadSucker/News works well with all types of content, from pictures (jpeg, gif, etc) to movies (mpeg, mpg, avi), music (mp3), and even application files and archives (exe, rar, etc).
QuadSucker/News is much more than a new reader, it is an automated news downloader. Sure, you can download binary attachments with a news reader, but it's a tedious process that involves a lot of manual effory. Using a news download makes everything automatic.
QuadSucker/News is a multithreaded program, downloading up to four news articles at a time. This allows it to run up for four times faster than less sophisticated single-threaded programs.

There is support for both streaming download mode (for picture groups), and the new pick and choose mode (for large mp3 / mpeg) groups. QuadSucker is one tool that will handle all of your newsgroup downloading needs.
News Downloading Modes:
QuadSucker News Downloader is very flexible and supports two different modes of operation to handle all of your newsgroup requirements:

Pick And Choose Mode: Perfect for large news groups such as the alt.binaries mp3, mpeg, and rar archive groups where you want to see a large selection of headers, and pick the files you want to download ahead of time.

Streaming Download Mode: Intended for picture groups (alt.binaries.pictures, etc) where you want to download all of the attachments in the group, without selecting them first. Just fire up QuadSucker/News and let it download all night long!
Windows Vista Support
QuadNews supports Windows Vista. I've created a page to discuss Vista related issues.
Screen Shot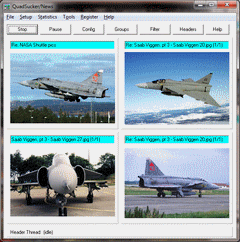 Click the screen shot above to view a full size version
Fast Facts and Features
Fully automatic "streaming download" mode
Manual "Pick and Choose" mode
Downloads four files at once to accelerate download speed
Supports yEnc
Built in newsreader and poster to let you post requests, and write / reply to discussions.
Perfect for downloading everything from small pictures (gif, jpg, etc) all the way up to giant multimedia (mpg, mpeg, mp3) and massive archive (rar) files.
JPEG auto-commenter can store message information in comment field of jpg files for future reference.
Support for encrypted usenet services