Current Release
Ver 3.5, Mar 2, 2007
All software is certified to contain No Adware, No Spyware, and No Viruses.
Download the Self-extracting automatic installation program. The software will be automatically installed to your computer.
Download the software in a ZIP archive. You will need to unzip it with a tool such as pkzip or winzip.
This software is compatible with Windows version 95, 98, ME, NT, 2000, XP, and Vista.
All SB-Software products are free of disabled features or expirations. You may try out the full functionality of the program for an unlimited time period.
QuadSucker/Web is the Internet's best Website downloading tool. QuadWeb will download anything from a website -- be it a single image, a page with it's images, or the entire web site! Versatile wizards and user-friendly interface make it a simple tool for novices and experts alike.
Versions 3.3 - 3.5 represent a significant upgrade from prior versions including efforts to conserve memory and support for secure (https) websites. Please report any problems to smbaker@quadsucker.com.
Please Purchase / Register your software today!
"Registering" is the term we use for how you "buy" the software. Please register your software today. The price is cheap, your registration is good for all future versions, it helps me to continue to develop the software, and you get other SB-Software programs, such as QuadSucker and Sortpics included with your registration for free!!

Paying online with your credit card is the most popular form of registering, but you may also register by using Pay-Pal, or by sending a check in the mail.
Would you like to know more about QuadSucker/Web, and how it can download anything from a single page to an entire website?
Want to know more? Check out the following:
3

Read more

about

the software.
Compatibility
QuadSucker products are compatible with ALL recent versions of Windows, including 95, 98, ME, NT, 2000, XP, and Vista! Vista users please see our notes on using QuadWeb under Windows Vista.
Purpose:
QuadSucker/Web (or "QuadWeb") is a multithreaded website downloader. QuadWeb download files from websites to your computer. Below are several examples of people who might wish to use QuadWeb:
You're a picture collector, and want to download all of the pictures from the website. QuadWeb excels at downloading pictures (such as gif, jpeg, etc) from websites. The are numerous built in options and filters to help you control what gets downloaded. QuadWeb isn't limited to just pictures. You can also download movies, text files, web pages, music -- any web content can be downloaded.
You're a website developer who needs to download a website to your local computer. Lots of times there are websites that you can't download via FTP or other means. Maybe a client wants you to work on his website, but hasn't set up an FTP link for you yet. QuadWeb will spider the whole website and download all of the files.
You want an offline copy of an entire website. You might want to copy a web site to your laptop or some other computer that won't have Internet connectivity available. Or perhaps you want to save a copy of someone's website to CD-ROM for future reference. Maybe you've run into a slow web site and want to download the whole thing overnight so you can read it in the morning. The possibilities are endless.
QuadWeb handles all of the above situations and much, much more. All you need to do to get QuadWeb to download a website is to enter the URL from that website into QuadWeb's main window, and QuadWeb will handle it from there. All of the downloading is automatic. You can let QuadWeb run overnight and see what it has by morning.
QuadWeb is even able to deal with the "tricks" that some websites use to prevent automated downloading and off-site linking. Many websites now use cookies to hinder automated downloading and prevent off-site linking. QuadWeb is able to simulate the cookies, without storing them to your computer, to make these websites download properly.
QuadWeb understands authentication and can handle most web sites that require a name and password to access them. QuadWeb includes numerous tools to help you download from complex websites, such as the URL sequencing wizard, that helps you download a series of numbered pages.
QuadWeb supports both standard (http) websites as well as secure (https) websites. It's also designed to handle even very large websites, with hundreds of thousands of web pages and images.
Developers: I have recently created a "plugin" kit to allow people to add extensions to quadweb and ultraweb.
Screen Shot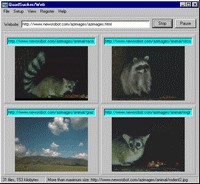 Click the screen shot above to view a full size version
Fast Facts and Features
Download single pages, or entire web sites
Support for sites that require authentication
Built-in image viewer
Stable, rock-solid performance
Supports SSL (https) websites