Current Release
Ver 3.5, Mar 2, 2007
All software is certified to contain No Adware, No Spyware, and No Viruses.
Download the Self-extracting automatic installation program. The software will be automatically installed to your computer.
Download the software in a ZIP archive. You will need to unzip it with a tool such as pkzip or winzip.
This software is compatible with Windows version 95, 98, ME, NT, 2000, and XP.
All SB-Software products are free of disabled features or expirations. You may try out the full functionality of the program for an unlimited time period.
UltraSucker/Web is a special version of QuadSucker/Web designed for high-speed internet connections. It eliminates the thumbnail image viewers and increases the number of threads from 4 to 12. See the About page for more details. Most users should probably use QuadSucker/Web instead.
Please Purchase / Register your software today!
"Registering" is the term we use for how you "buy" the software. Please register your software today. The price is cheap, your registration is good for all future versions, it helps me to continue to develop the software, and you get other SB-Software programs, such as QuadSucker and Sortpics included with your registration for free!!

Paying online with your credit card is the most popular form of registering, but you may also register by using Pay-Pal, or by sending a check in the mail.
Would you like to know more about UltraSucker/Web, and how it can download anything from a single page to an entire website?
Want to know more? Check out the following:
3

Read more

about

the software.
QuadSucker products are compatible with ALL recent versions of Windows,
including 95, 98, ME, NT, 2000, and XP!
Purpose:
UltraSucker/Web (or "UltraWeb") is a multithreaded website downloading tool. UltraWeb features twelve threads to download files simultaneously from a website. This means that twelve files are downloaded at once, increasing the speed of download as compared to single threaded downloaders. UltraWeb can be used to download entire websites, or you can use it to download just part of a website. It can download pictures, movies, music, applications, html documents -- whatever content is on the website.
So how does UltraWeb differ from QuadWeb? Well, QuadWeb only features four threads compared to UltraWeb's twelve threads. This means that UltraWeb has a speed advantage over QuadWeb because of the number of files that can be downloaded simultaneously. UltraWeb lacks QuadWeb's thumbnail viewers, because 12 thumbnails is simply too much to try to cram into one program window. How to choose between the two? Most users should probably be opt for QuadWeb. Four threads is generally good enough for downloading most web sites. Only choose UltraWeb if you want the extra speed associated with pulling down 12 files simultaneously, or if you are trying to download from a very large web site.
Developers: I have recently created a "plugin" kit to allow people to add extensions to quadweb and ultraweb
Screen Shot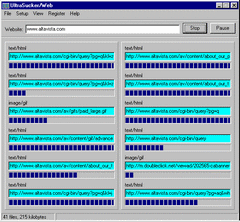 Click the screen shot above to view a full size version
Fast Facts and Features
High performance website downloader
12 threads downloader 12 files in parallel
Shares the same basic design as QuadSucker/Web
Supports secure SSL web sites